Welcome to Episode 45 of Sit & Sew Radio, a Quilt Addicts Anonymous podcast. This week we are bringing back Malka Dubraswky to talk about her new fabric collection, Mark to Make, for Robert Kaufman Fabrics. You may remember Malka from her appearance on Episode 7 of Sit & Sew Radio, which you can listen to by clicking here.
Before we get to the interview, we want to tell you a little bit about what is going on behind the scenes at Quilt Addicts Anonymous. The past week or so has been all about getting ready for our first trips to Chicago and Paducah! We are vending at Quilt Festival Chicago April 12-14 and then we're going right to Kentucky for AQS QuiltWeek Spring Paducah 2018 April 18-21.
If you are going to make it to one of the shows, we'd love for you to come say hi! We'll be at Booth #2007 in Chicago and Booth #2106 in Paducah. Mention Sit & Sew Radio at our booth and get one of our $12 patterns for FREE with a $10 purchase at either show.
We've also been spending a lot of time and effort on content generation for all of the Quilt Addicts Anonymous fans. In addition to the Sit & Sew Radio podcast, we're pumping out new video tutorials all the time. All of our videos for the Dimensions Block of the Month are now available on YouTube, and we also have an exciting 12-part video tutorial series in the works.
My first book is also in production and photography should be happening soon, which is super exciting. The book is scheduled for release this fall. There's also new patterns on the way and some magazine patterns later this summer. We are really excited for what 2018 will bring here at Quilt Addicts Anonymous.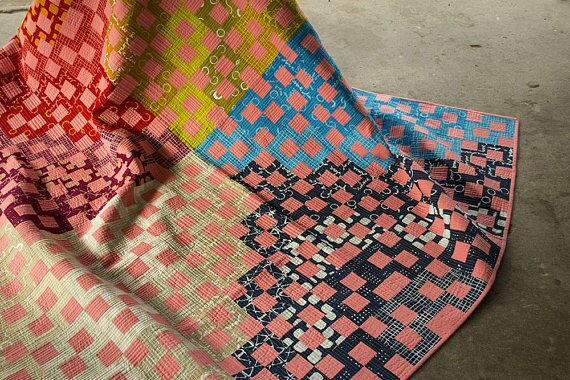 Malka Dubrawky, fabric designer, dyer, author and blogger

Malka went to school to study studio art and turned to art quilting when she was at home raising kids. She received lots of recognition, and was featured in several publications, but eventually moved over to the modern quilting world when her desire shifted to creating more functional textiles that would inspire other quilters.
Today we're talking about her latest fabric collection, Mark to Make. This is Malka's first true batik fabric collection that is produced by a major fabric manufacturer. We also discuss her increased productivity since moving her studio to her home, sewing garments and what inspires her outside of the sewing and quilting world.
Learn more about Malka and her work at her website stitchindye.com.